Disambiguation: The original Linux on 2 Floppies is here.
I, post this from a remastered version of Knoppix that we named Floppix!
It all actually began, with me deciding to do a bit of Emacs-ing at home during the winter hols but I don't have a Linux box at home. Live-CD is the way to go! But then Emacs doesn't \*usually\* go with Live-CDs. So I decided to get around making my own. :) [Dunnet "Dunnet Game"), an Adventure game in Emacs, played a crucial role in motivating me to go ahead!] The rest as they say is history….
Actually, I tried a debootstrap from my Debian etch but I couldn't manage to get the initrd working. [[http://avudem.blogspot.com "Voodoo"][I ain't this geekish, its only that I am incapable of putting these terms in a simpler language.] After numerous futile attempt, I gave up for the time being and that's when the genius of [Voodoo]] came in, he took a different route. Remastering Knoppix.[Modifying an existing Live-CD of Knoppix]
I won't get into the exact details of how we got about it. There's a lot of online help available for that.
A few highlights, for the curious reader…
got rid of the default KDE and replaced it with Fluxbox. [actually Floppix = Fluxbox + Knoppix :P]
added emacs, cmucl, slime, octave, linuxdcpp, vlc and others.
got rid of other packages which we weren't going to use.
changed the boot message
changed the default background image.
removed the default boot image [ couldn't change it as the image we chose wasn't being properly converted to lss16 format ]
tested the CD with Qemu [size of the iso got more than 700MB]
removed a few other not so regularly used packages [including wine!]
burnt the CD
Logged in!
Now, that I've logged in, I realize we managed to quite a decent job. Obviously we weren't perfect. It was the first time and done in quite a hurry. [btw, we have our end-sems going on; I've no exam tomorrow though] I was able to listen to music, connect to the DC, play a game of dunnet and make a blogpost! We also missed a few packages, for instance a screen shot capture program! But it ain't too bad, still a long way to go though!
Just hoping we manage to make it better, as we get better at it! ;)
Here comes FloppixV0.1!
---
Update [3/1/08]: I never knew that GIMP could capture screenshots! ImageMagick can do that too. I had two programs at hand and thought I had none! Here's a Screenshot of the Floppix Desktop.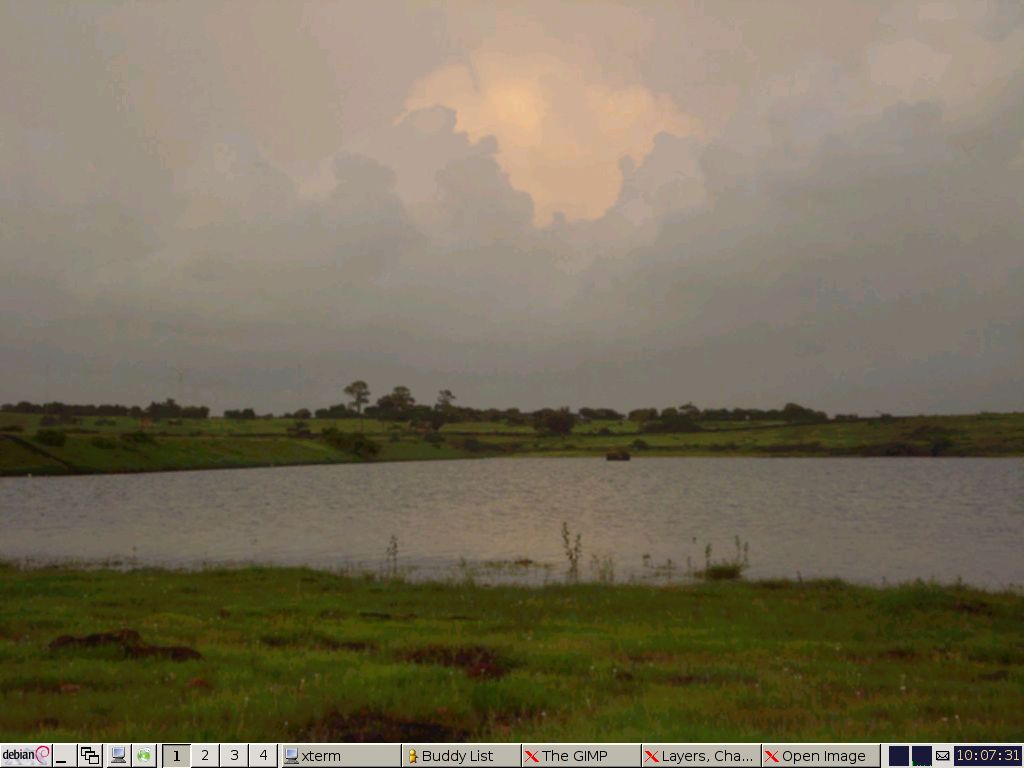 Picture Source [for the Background Image] : 9
---
Update 2 [4/1/08]: There is already a floppy distro of Linux called Floppix. I knew about this only when some one searching for it reached my blog. Guess I should do something about this. [I'll be able to do it only after getting back to campus,though]